Mulligans Bar & Grill staff will keep your energy going with foods and beverages while you're enjoying your game. Come early to relax and enjoy your cup of coffee with one of our breakfast specials, or if you're on the tee, pick up a quick snack or sandwich.
Our staff will also be on the course with our beverage carts, to keep you hydrated. After a round, enjoy more snacks or specials, along with your favorite beverage from our fully stocked bar. Open 7 days a week, 6 am until 5 pm! We make you feel like every day is a holiday at Legacy Golf Club!
Scroll down to see our menu or download it by clicking the button below!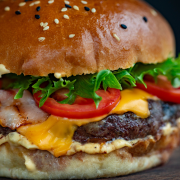 Menu
Assorted Breakfast Pastries
Banana Muffins
Apple Cinnamon Rolls
Oatmeal
First Tee Sandwich 7
One Egg Any Style, Cheddar Cheese, Sugar Baked Ham on English Muffin, Served with a Watermelon Slice
Breakfast Burrito 9
Two Scrambled Eggs, Sausage, Tomato, Shredded Cheese, Pico de Gallo in a Wheat Tortilla Wrap, Served with a Watermelon Slice
It's A Birdie! Southern Fried Honey Chicken Biscuit 8
Crispy Fried Chicken Drizzled with Honey on a Traditional Southern Biscuit, Served with a Watermelon Slice
The Golfer Fruit Bowl 8
Seasonal Fruit Salad with Greek Yogurt
Par 3 10
3 Corn Dusted Sliders with Bacon-Sausage-Ham, Topped with Fluffy Scrambled Eggs and Cheddar Cheese, Served with Watermelon Slice
Large Soft Pretzel 8
Served with White Queso
7" Tomato – Mozzarella Pizza 8
Add Pepperoni $10
Smoked Tuna Melt 9
Corn Dusted Sliders with Smoked Tuna and Provolone, Jalapenos Served with Chips
Fairway Hot Dog 8
Nathans 7" All Beef Hot Dog, Served with Chips
Add Beef Chili $1 Add Cheese $1
American Burger 12
1/4 LB Black Angus Beef with Lettuce, Tomato, Onion on a Toasted Brioche Bun, served with a Dill Pickle and Fries
Add Ons $1 Each: Cheddar, American, Swiss, Bacon, Avocado
Veggie Burger 13
With Lettuce, Tomato, Onion on a Toasted Brioche Bun served with a Dill Pickle and Fries
The Hole In One 13
Bacon, Lettuce, Avocado, Fried Egg, Tomato and Spicy Mayo on Toast Served with a Dill Pickle and Fries
In The Rough Caesar Wrap 13
Grilled or Blackened Chicken Caesar Wrap Served with a Dill Pickle and Fries
Club House Wrap 13
Cheese, Sugar Baked Ham, Lettuce, Tomato in a Whole Wheat Wrap Served with a Dill Pickle and Fries
The 18th Green 9
Romaine Lettuce, Parmesan Cheese, Garlic Croutons and Creamy Caesar Dressing
Add Grilled or Blackened Chicken $14
Sides 4
Chips
Fries
Fruit Salad
Small Salad